RSS

The facts about the Twin Cities
Is the Twin Cities metropolitan area exceptional? A new publication from the Federal Reserve Bank of Minneapolis address that question and others.
Published March 1, 1999 | March 1999 issue
How often have we heard that the Twin Cities metropolitan area is really special, above average in many different ways? But is this actually true?
Is it, in fact, similar to many other regional centers? What are the differences between the various sectors of the Twin Cities metro area? What are the issues facing our community developers? And who can help with this development?
In the spring of this year, the Federal Reserve Bank of Minneapolis is publishing A Profile of the Twin Cities Metropolitan Area that will address these questions. How did we find answers to these questions? First, we examined demographic data, primarily from the U.S. Census and Home Mortgage Disclosure Act (HMDA) reports. We also talked to a wide range of community leaders, including government officials, bankers and directors of neighborhood associations, and not-for-profit community organizations. In this article, we summarize the views of local leaders and our analysis of demographic data included in the profile. 1/
Needs and opportunities in the Twin Cities metro area: Views of community leaders
The community leaders we contacted noted that the Twin Cities metro area continues to benefit from a period of unprecedented economic vitality, with budget surpluses and extremely low unemployment rates. Some individuals and families, however, are not sharing in this prosperity because they lack job skills or transportation to living-wage jobs. Low-income neighborhoods are still experiencing disinvestment with few new jobs, deteriorating housing conditions and continuing poverty.
Needs vary
Minneapolis and St. Paul share many challenges with our nation's larger cities, especially the issue of neighborhoods that are experiencing disproportionate amounts of disinvestment, deterioration and crime. Some contacts believe that private disinvestment in these neighborhoods is being led by public disinvestment. Sound housing and economic development strategies, they believe, are needed to create and sustain vital neighborhoods.
The inner-ring suburbs face a range of issues similar to those of the central cities, such as an aging housing stock and the need for commercial redevelopment. Our contacts noted that much of the housing stock needs rehabilitation and modernization if it is to be attractive to new buyers. Because these suburbs generally are fully developed, older buildings and abandoned sites are often the best options for new or expanding businesses. The outer-ring and exurban areas face their own set of development challenges, including developing city services and the extension of utilities and other infrastructure.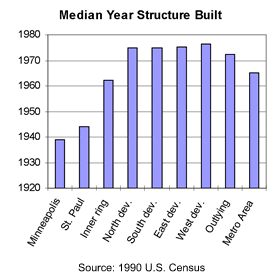 Residents need affordable housing
The demand for affordable rental housing units greatly exceeds the supply, especially for larger units that can reasonably accommodate families, our contacts noted. To help meet the rental housing demand, our contacts saw a critical need for financing beyond what is generally offered by the private sector. This additional financing is needed for new multifamily housing as well as for maintenance and rehabilitation of existing units.
According to our contacts, two key issues must be addressed before there will be an increase in affordable homeownership opportunities: producing more reasonably priced homes and preparing more low- and moderate-income families to become successful homeowners. Homeownership counseling and locating appropriate, affordable financing sources are often necessary. In some cases, purchase-rehabilitation loans would greatly assist a low- or moderate-income homebuyer to purchase a house that would otherwise not be affordable.
The economy is good, but there are gaps
The demand for skilled workers is high during this period of very low unemployment. Many companies are having difficulty filling jobs, even with less stringent hiring requirements, a willingness to hire untrained labor, and the offer of increased wages. One cause of this problem is a mismatch between the location of new jobs and that of potential workers. Our contacts think that affordable and convenient transportation to suburban jobs will be crucial in solving the labor shortage. The education and training of future workers are also critically important.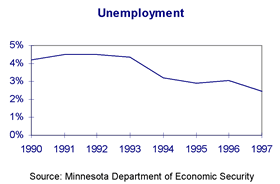 Small businesses, often considered the cornerstone of a neighborhood-based development strategy, have a wide variety of financing needs: seed capital, financing from nontraditional banking sources, working capital and microenterprise loans. Our contacts said that, in many cases, the primary need is technical assistance with business finance and planning.
People need help with credit
Our contacts consider poor credit history the biggest barrier to both homeownership and small business ownership. Poor credit is common in all income levels, but low-income people are more susceptible to defaulting on a loan in a financial emergency. According to our contacts, people with good credit generally do not experience illegal discrimination.
What can be done
Our contacts raised ideas that may be used to further community development. These ideas included more effective use of currently available resources, professional training, assistance to consumers and the creation of new sources of funding.
Successful economic and community development requires effective, well-run community organizations working in partnership with government and the private sector. Some community organizations would benefit from organizational and human capital development and financial analysis training to develop and complete more complex deals. Our contacts said that, in general, banks and community organizations in the Twin Cities have good working relationships.
The Twin Cities metro area has many needs but also has an abundant supply of dedicated people and organizations that are constantly striving to build their communities.
To meet their goals, our contacts suggest that local organizations need to sharpen the focus of their efforts on the most critical needs and promising opportunities available throughout the region.
Just the facts: Demographics of the Twin Cites metro area
We assembled demographic information about the Twin Cities metro area using U.S. Census Bureau data, supplemented by data from other sources. While much of this information is now almost 10 years old, we believe that the trends and comparisons within the Twin Cities metro area and to other metro areas are still valid. 2/
Population has grown
The Twin Cities metro area increased in population by an estimated 9 percent since 1990, growing to 2.6 million people in 1996. The population decreased slightly in the central cities, it increased slightly in the inner-ring suburbs, and the rest of the metro area experienced large increases. The vast majority of the metropolitan population was white in 1990, with significant and ever-increasing black and Asian populations. The foreign-born population was relatively small but included a larger portion of recent immigrants than in most metropolitan areas in the United States. Much of the recent emigration has been from Southeast Asia, the former Soviet Union and Somalia. Approximately 56 percent of households included a married couple, with almost a third consisting of single or non-related people.
The economy is doing well
Unemployment in the Twin Cities was lower than in other major metropolitan areas, decreasing to 2.4 percent in October 1997. However, the 1990 unemployment rate was much higher for the black and Indian populations than for the rest of the population. Labor force participation was high and increasing for both men and women.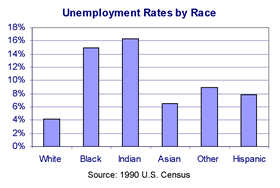 From 1990 to 1996, all industries have increased in number of employees. The services industry had both the largest number of employees and the largest rate of increase during that time. More residents worked in technical, sales and administrative support jobs than in any other occupation, followed in size by professional and managerial workers.
The HUD-adjusted median family income for the Twin Cities metro area was $57,300 in 1997, relatively high compared with other metropolitan areas. This figure seems to reflect the above-average labor force participation, which means that more people contribute to family and household incomes. While the poverty rate was very low compared to other metropolitan areas, these rates varied considerably by area. As might be expected, in areas of high poverty there were lower high school graduation rates and higher unemployment rates than the rest of the metro area.
Housing vacancy is low
Total housing vacancy was low at 5 percent in 1990 and vacancy in apartment complexes had dropped to 1.1 percent in the third quarter of 1998. An above-average percentage of housing was owner-occupied and a below-average percentage of Twin Cities homeowners paid more than 30 percent of their income for housing expenses, as compared to other major metropolitan areas. Building permit activity has been steady, but slower than it was in the late 1980s.
Situations vary
Residents of the Twin Cities metro area live in a wide variety of socioeconomic conditions. Some of these differences vary by geographic location, and we have divided the metro area into sectors: the central cities (Minneapolis and St. Paul), the inner-ring and developing suburbs (as defined by the Metropolitan Council) and the outlying area (the rest of the 10 counties). While generalizations are possible about each of these sectors, each sector consists of many communities with a variety of conditions in each community.
The central cities had the greatest diversity among types of residents and socioeconomic conditions. The nonwhite population was 20 percent, mobility was higher, non-family and single-parent households were more prevalent, and more households were linguistically isolated than in other sectors of the Twin Cities metro area.
While the college graduation rate was higher, the high school graduation rate and median household income were lower in the central cities than elsewhere in the metro area. Unemployment and poverty rates were higher than in the rest of the Twin Cities metro area. In the central cities, the homeownership rate was lower, the median housing value lower, and the housing stock older than the metropolitan average. Many of these indicators are not necessarily signs of distress, but the combined picture shows that some parts of the central cities are, in fact, experiencing some adversity. However, this is common to central cities of major metropolitan areas and not a sign of unusual problems in Minneapolis or St. Paul.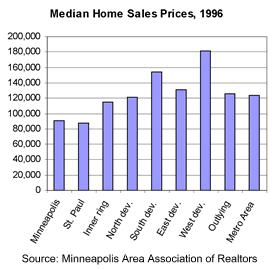 The inner-ring suburbs fall between the central cities and the developing suburbs, both geographically and socioeconomically. Unemployment rates, income, poverty rates, homeownership and housing value all followed this trend. In addition, the population was older, the households were less likely to include children, and there were fewer persons per housing unit than average. A smaller-than-average percentage of homeowners had mortgages or paid more than 30 percent of their incomes for housing costs.
The developing suburbs were generally in the best socioeconomic condition of all. They were more likely to be occupied by families with children and experienced low mobility; high homeownership rates; and more favorable unemployment, income and poverty rates.
The outlying area was more diverse than the other suburban areas, with older farms, smaller cities and newer exurban development. It was similar to the developing suburbs in that it had a smaller nonwhite population, lower mobility, more families, and high homeownership rates. However, it generally had lower educational attainment, higher unemployment, poverty and vacancy rates, and lower housing values than the other Twin Cities suburban areas.
About the Twin Cities profile
A Profile of the Twin Cities Metropolitan Area consists of two related documents. The first document, subtitled Demographics, Home Mortgage Lending Activity, Credit Needs and Opportunities,provides:
an overview of the demographics of the Twin Cities metro area;
an analysis of home mortgage lending patterns; and
an assessment of the commonly perceived needs and opportunities for investment and public/private partnerships.
The second document, the 1999 Directory of Economic Development Resources and Services,was created in partnership with the Twin Cities Economic Development Group (TCED). It contains a directory of Twin Cities metro area community development program providers and types of programs they offer.
The profile and the accompanying directory can be obtained, free of charge, individually or together, by calling the Federal Reserve Bank of Minneapolis at (612) 204-5074.
---
Endnotes
1/ For the purposes of this article, as well as the profile, the Twin Cities metro area is defined as the 10 Minnesota counties that were in the Minneapolis-St. Paul Metropolitan Statistical Area in the 1990 U.S. Census.
2/ Many of the terms we use reflect U.S. Census Bureau terminology. These terms and the limitations of the data are discussed in the profile.