RSS

Recycling resources
The Community Reinvestment Fund links economic development financing more closely with capital markets and gives community-based lenders a funding option other than uncertain sources of government money.
Published July 1, 1997 | July 1997 issue
Reduce, recycle, reuse. This familiar slogan appears on everything from waste baskets to milk jugs and reminds us to be conscious about the wise use of scarce resources. The Community Reinvestment Fund (CRF), an innovative Minneapolis-based organization, has a new twist on that philosophy for the community development lending field: increase the number of community development loans, sell the loans on the secondary market and recycle the proceeds, and reuse that money for more loans. CRF, which promotes this lending cycle as a way to stretch community development resources, is a leader in showing how a secondary market for community development loans can help build stronger and healthier local economies.
CRF works to develop a well-functioning secondary market for community development loans in three ways. First, it promotes access to a steady source of funds for borrowers by purchasing loans from community-based lenders (such as local revolving loan funds, city governments, and housing and economic development authorities) that use the sale proceeds to fund more loans. Second, its loan-servicing organization, Community Reinvestment Services, works to ensure that borrowers repay their loans as agreed. Finally, it issues loan-backed securities with competitive rates and a low risk profile, factors that are attractive to investors and promote the long-term viability of the market.
This article discusses the forces behind the creation of CRF, its three-part strategy to develop and expand the secondary market for community development loans and its plans for the future. CRF is a success story that provides interesting insights and ideas for readers seeking new opportunities to improve their communities.
Getting started
Increasing demand for community development funds and important tax law changes provided the impetus for creating CRF in the late 1980s. The organization's founders, Frank Altman and Warren Hanson, were seeking new sources of funding for economic development projects when they developed the idea for a new secondary market for these loans. Both men were working in government on economic development issues and recognized the importance of changes in the Tax Reform Act of 1986. The new tax code put limits on the issuance of industrial development bonds, which had provided a substantial source of economic development financing. There was no obvious funding source to replace the bonds, and other government grants and subsidies were beginning to dry up.
CRF started operations using foundation grants and a $200,000 matching grant from the Minnesota legislature (the $200,000 is the only government money CRF has ever received). Altman, who has served as CRF president since its inception, and the foundation supporters strongly believed that CRF should be a new model for financing community development, that it should not be a government agency and that it should be market-driven. The goal, according to Altman, was to "demonstrate, create and operate a secondary market for economic and community development loans."
Promoting increased access to loans
CRF was designed to address a fundamental problem most community-based lenders face: demand for loans often exceeds the available supply of funds. After a community-based lender has loaned out its initial pot of money, new loans can only be made from loan repayments. These repayments are often not adequate to replenish the loan fund to meet new borrowers' credit needs. Excess demand for loans is generally a "good" problem to have, since it indicates an active and developing community and because lenders can choose the strongest credits. However, if the supply of funds is too scarce, qualified borrowers who could be creating housing or jobs in a community do not receive funding. Community-based lenders often find it difficult to raise additional capital to make loans, especially in times of increasingly limited government grant funds.
By purchasing loans from these organizations, CRF provides community-based lenders with new funds they can then lend to other borrowers. The loan sellers must agree to relend the proceeds of the sale for economic and community development projects. They cannot use the proceeds to fund other local needs, such as street repair, which can be tempting in budget shortfall times.
Carol Anderson is the executive director of Community Development of Morrison County, Inc., a nonprofit economic development corporation with a revolving loan fund that serves manufacturing businesses in rural, central Minnesota. Her reason for involvement with CRF is fairly typical, especially among the small community loan funds that have sold loans to the organization. "I sell loans when I don't have any more money to lend," Anderson says. "If there are no good prospects waiting for loans, we try to build up our fund through loan repayments rather than selling our existing loans. But sometimes there is a company that needs money right away, and selling loans to CRF gives us access to funds to make the project happen."
CRF purchases loans from a variety of organizations, but it is not intended to be a source of liquidity for banks. CRF has purchased participation loans from banks, but only from bank community development corporations (CDC) where the CDCs agree to reinvest the money in economic and community development loans or investments. However, many banks are involved in some way in loans sold to CRF, even if they are not the sellers. For example, Community Development of Morrison County requires private lender participation on all of its loans. In many cases, the bank loan would not have been made unless money from the revolving loan fund was also available to the business. Consequently, the more loans made by a community-based lender, the more likely local banks are to participate in community development projects.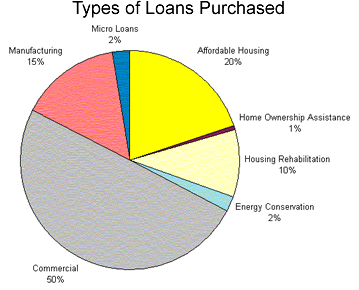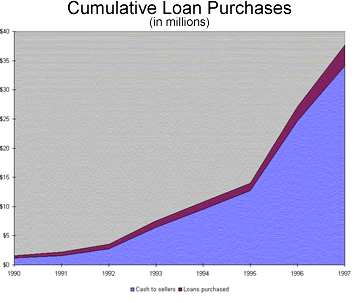 Quality loan servicing
In its years of operation, CRF has determined that standardized loan documentation and specialized loan monitoring and servicing are vital to creating and maintaining a viable secondary market. As directors of community loan funds know, the challenge of lending in the economic development and affordable housing markets does not end when a loan is made. Ensuring that loans are being paid as agreed, known as loan servicing, can be a significant challenge. Loans may be structured with unconventional terms to meet the needs of the borrower, a situation that can make tracking payments and maintaining accurate loan files more difficult than a conventional loan. The staff of a small community revolving loan fund may lack the time and expertise to service loans properly or to work out new terms with a borrower who is having trouble making payments.
In response to these concerns, CRF is developing Community Reinvestment Services (CRS) as a separate division to provide specialized monitoring and servicing for community development loans. According to Dennis Sonnek, CRF vice president and chief financial officer, CRF recognized a need for an entity to service as well as purchase loans. Previously, CRS only serviced loans sold to CRF but has expanded to offer loan servicing to community-based lenders on a contract basis. CRS currently services about 1,500 loans. Community-based lenders can contract with CRS to service their loans even if they are not interested in selling the loans to CRF.
CRF and CRS provide training and information to loan fund managers to teach them about proper loan documentation and servicing. Some organizations have had difficulty selling their loans because of inadequate documentation, which also makes proper loan servicing much more difficult. To address these problems, CRF developed a manual with detailed information about proper documentation needed to improve servicing and obtain the highest sale price for a loan. Even if an organization chooses not to have CRS service its loans, the loan fund managers will have learned valuable skills.
The Family Housing Fund of Minneapolis and St. Paul (FHF) has a contract with CRS to service its loan portfolio. This private, nonprofit group makes affordable housing loans, frequently with 30-year deferred terms. Selling the loans on the secondary market is not feasible because they don't generate revenue streams, but they still require servicing.
According to Anita Pierce, office manager at FHF, CRS provides an important service. "CRS monitors insurance requirements and reviews the financial statements for the projects we fund," she says. "We have some loans with 15-year balloon payments, which means we need to monitor the financial status of those projects to protect our investment. We also have some loans made several years ago that are amortizing (meaning they require regular payments by the borrower, like a home mortgage), so CRS ensures that payments are being received on those loans."
FHF receives a monthly report from CRS on the activities in its portfolio. Pierce is the only staff member available to monitor the loans, so having CRS do the loan servicing saves her substantial time.
CRS also works with the local lenders to handle more difficult servicing situations, such as defaults, write-offs and recoveries, even if they have sold the loans. CRS believes it is important to keep the local sellers involved in such decisions because they have a direct effect on economic conditions in their communities.
| | |
| --- | --- |
| | CRF purchased the loan made to Northern Cap Sewing, Little Falls, Minn. The loan allowed the manufacturer to expand operations from Minneapolis and create 60 jobs in this central Minnesota community. |
Issuing attractive loan-backed securities
The sale of securities to investors completes the cycle of reinvestment that begins when CRF purchases the loans from the local sellers. To accommodate the needs of smaller local organizations, CRF purchases their loans and holds them until they have enough to package together for a security sale. Altman noted that although larger loans may require less work to package, CRF has a special commitment to work with small organizations.
According to Altman, CRF believes that the investors in its securities must get a competitive return. CRF purchases below-market rate loans at a discount and prices them to yield a market return. As of July 1997, CRF has purchased 753 loans worth $37.6 million, with $34.1 million in proceeds returned to the sellers. This means that, on average, sellers get about 91 percent of the value of their loans, a figure not surprising since many of these organizations offer loans at below-market rates. This discount pricing is necessary because CRF believes it will not be successful if it is treated as a charity or if investors are asked to take a below-market return.
CRF securities are attractive to investors because of their low risk profiles. CRF has successfully solicited foundations for money to fund a credit reserve. This reserve allows CRF to overcollateralize its bonds and maintain loan cash flows of at least 120 percent of bond debt service. In less complex terms, the extra cash flow provided by the credit reserve gives investors a cushion to ensure they receive full payment even if some loans are not paid as agreed. The reserve also allows CRF to provide the sellers with the highest possible price for their loans while still maintaining attractive rates and a low risk profile for the securities.
Foundations are willing to fund the credit reserve because it enables them to leverage their resources. Philanthropic organizations that have financed the credit reserve include the Northwest Area Foundation, US West Foundation and McKnight Foundation. Program-related investments have also been provided by the Metropolitan Life Foundation, Ford Foundation and MacArthur Foundation.
Maintaining an active market for its securities is an integral component of CRF's success as a secondary market. Loan servicing provided by CRS minimizes loan defaults, which helps to maintain the attractiveness of the securities. CRF uses the proceeds from the securities sales to purchase more loans from local organizations, which provides a capital infusion in communities and renews the reinvestment cycle.
Looking to the future
CRF has substantially increased its loan purchases and its presence in the community development lending field since 1988, and it plans to continue growing. It has purchased loans in 10 states and the District of Columbia and has attracted investors from across the country. Although there are other private affordable housing secondary markets, the secondary market for economic development loans is very limited. CRF is concentrating on states west of the Mississippi River, but its eventual goal is to become a national organization.
Targeting innovation
As resources for community development decline, revolving loan funds will need to look for innovative ways to continue making investments that create jobs and housing in their communities. Altman estimates that $4 billion to $5 billion dollars is currently tied up in revolving loan funds. While not all of these loans are salable, selling only a portion of these loans on the secondary market could free up a substantial amount of money. Organizations like CRF are likely to continue to grow as community-based lenders recognize the valuable opportunities provided by secondary markets to recycle and reuse scarce resources for more community development loans.
For more information, visit the CRF website at www.crfusa.com.