The Institute Deploys Fed System Resources to Tackle Disparities and Expand Opportunities
Federal Reserve Bank of Minneapolis President Neel Kashkari launched the Opportunity and Inclusive Growth Institute in January 2017 to focus attention on the structural barriers that limit opportunity and advancement in the United States.
Since arriving in Minneapolis a year earlier, Kashkari had been struck by the wide economic and educational disparities in the state of Minnesota, which are among the most challenging in the country, even at a time of historically low unemployment. Monetary policy, he thought, was probably too blunt an instrument to address these persistent gaps. But the Federal Reserve had another weapon: its vast research capacity.
The first step in making a contribution to this challenge was to assemble a group of world-class researchers who could generate important insights into the root causes of the nation's economic disparities, an obstacle to meeting the Federal Reserve's maximum employment mandate. To put the Institute in motion, the Minneapolis Fed reached out to more than a dozen experts across a range of fields to be part of the Institute's Board of Advisors. Encouraged by the potential of the Federal Reserve System to contribute its resources and expertise, the Institute launched with an impressive class of 19 advisors.
On May 22-23, 2017, the Institute held its inaugural conference at the Minneapolis Fed, bringing together leading scholars from the fields of economics, sociology, public policy and law, including most of the Institute's advisory board. In multidisciplinary panels and discussions, these scholars shared their research and insights, and called attention to unanswered questions on issues of human capital, mobility, segregation and inequality.
Opening a conversation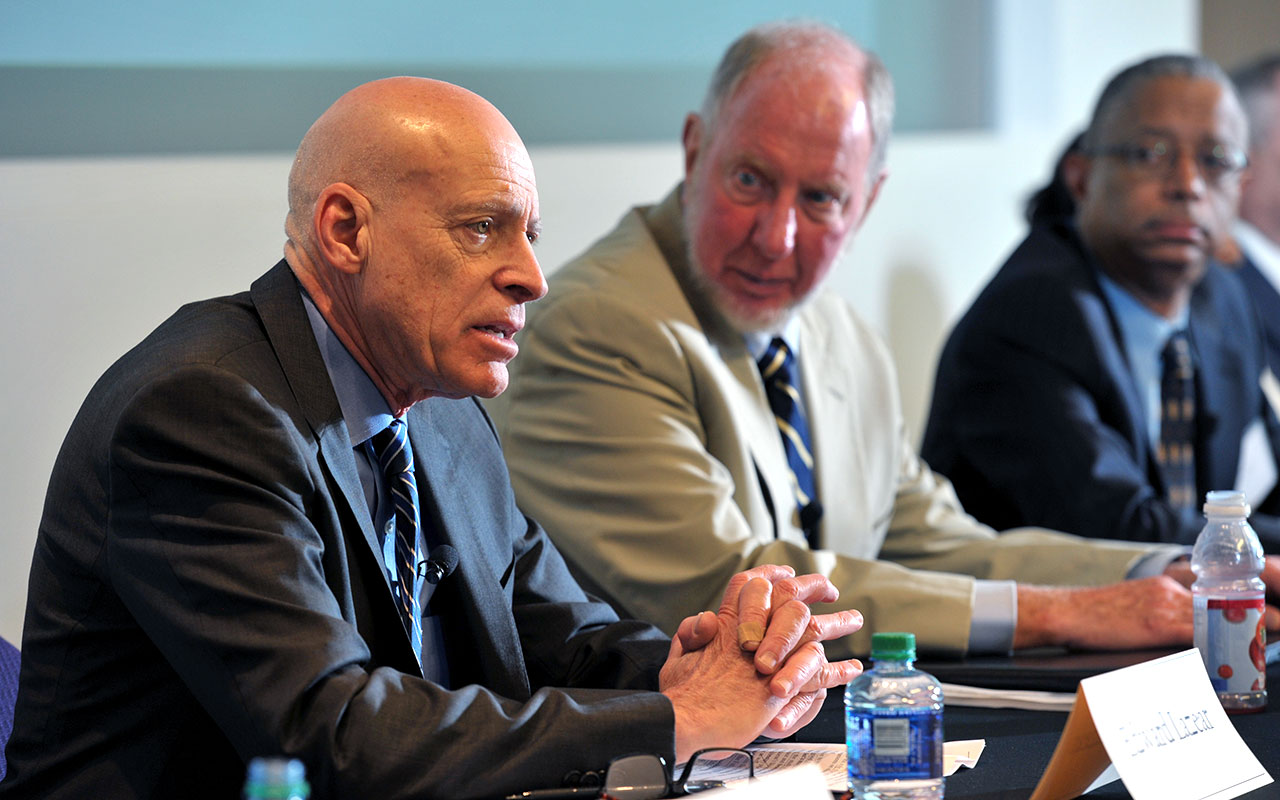 Edward Lazear speaks during the day 1 morning panel while Robert Putnam and William Spriggs look on.
From the first presentation, it was clear that this was no ordinary academic conference. Robert Putnam, the Harvard professor and author of Bowling Alone, took participants on a visual journey of social change since 1900 through 10 graphs, including measures of income inequality, family formation and social networks, mirroring the increasing inequality and fragmentation of American society. The last graph showed ratios of the frequency of the words "I" and "we" in American books, suggesting that a sharp increase in individualization has had profound implications for health, wealth and happiness in the United States.
That unconventional start opened a conversation that continued over the next day and a half, among disciplines that don't often collaborate—and even within different branches of economics. William Spriggs, a labor economist at the AFL-CIO and Howard University, picked up on the social network theme to point out that segregated job networks—whether among blacks or among whites in Appalachia, for example—are far less effective, he said, because disadvantaged groups include fewer people with jobs.
Social networks and mobility
Other speakers showed how social networks can increase polarization, as in the growing segregation of schools in the Twin Cities, or how the college one chooses can affect a lifetime of earnings. Emmanuel Saez of the University of California at Berkeley shared research indicating that income growth in the United States since 1980 has been increasingly concentrated among top earners, leaving the bottom 50 percent essentially treading water. This has significant implications for mobility, he said, as top earners have more resources to set their children up for success, including sending them to top schools.
Racial dimensions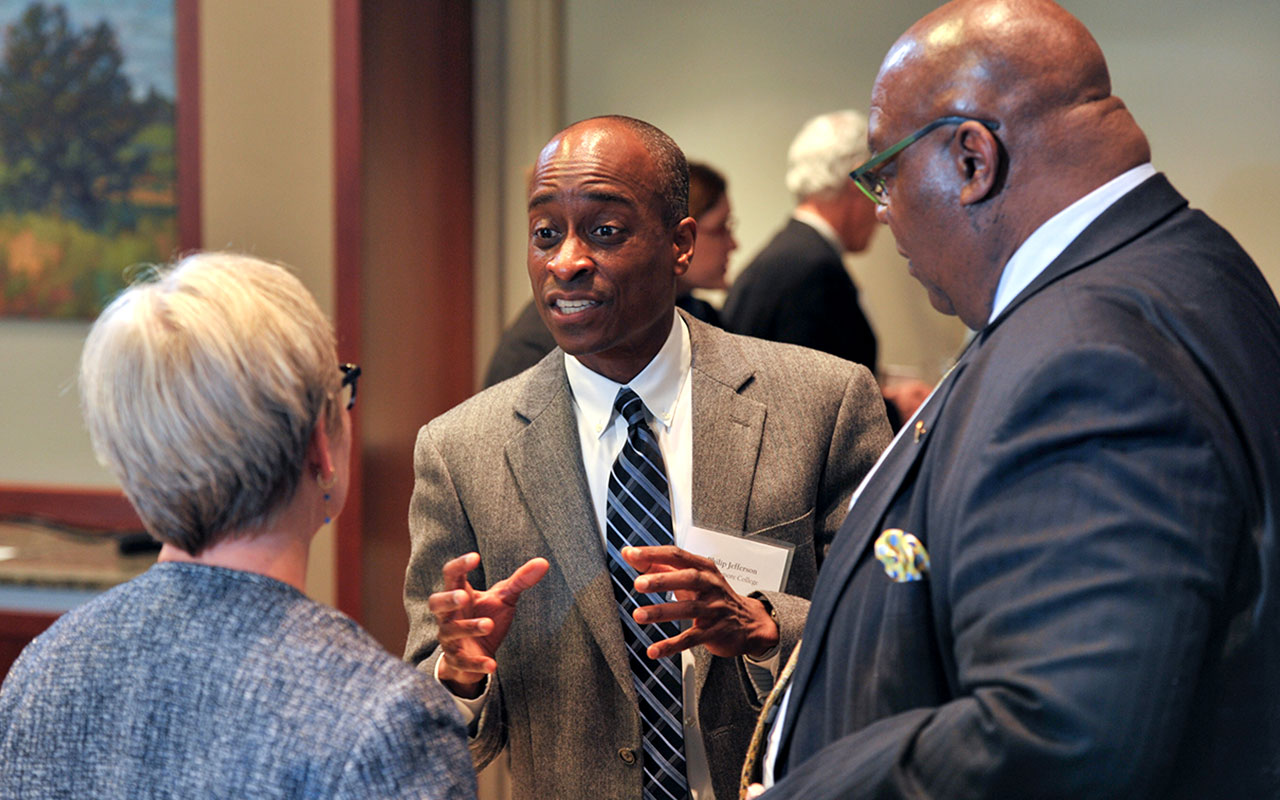 Philip Jefferson discusses his panel with conference attendees.
Other panelists underlined how, more than half a century after the Civil Rights era, economic inequality has persisted among communities of color. William "Sandy" Darity Jr. of Duke University shared evidence of a wealth gap that makes it harder for blacks to take risks and withstand financial shocks, such as unexpected medical expenses. Glenn Loury of Brown University offered a personal reflection on how his views have evolved over time. More than 30 years ago, he described problems of single parents and crime as the "enemy within" black society. Now he sees those same issues as indictments of American society.
Social implications
The rise of single motherhood across races and ethnicities was a theme that has profound educational and economic implications for multiple generations. Sociologists Sara McLanahan and Kathryn Edin shared some of their perspectives on the causes and consequences of this trend. A key takeaway of the conference was that finding ways to support these fragile and often complex families will be crucial in breaking the cycle of poverty.
Amid the grim statistics were some signs of hope: Janet Currie of Princeton talked about how child mortality, an important measure of a population's health, has sharply declined since the 1990s, especially among African-American children; Ebonya Washington of Yale showed how the right to vote can change the dynamics of power even before a single vote is cast.
On-the-ground efforts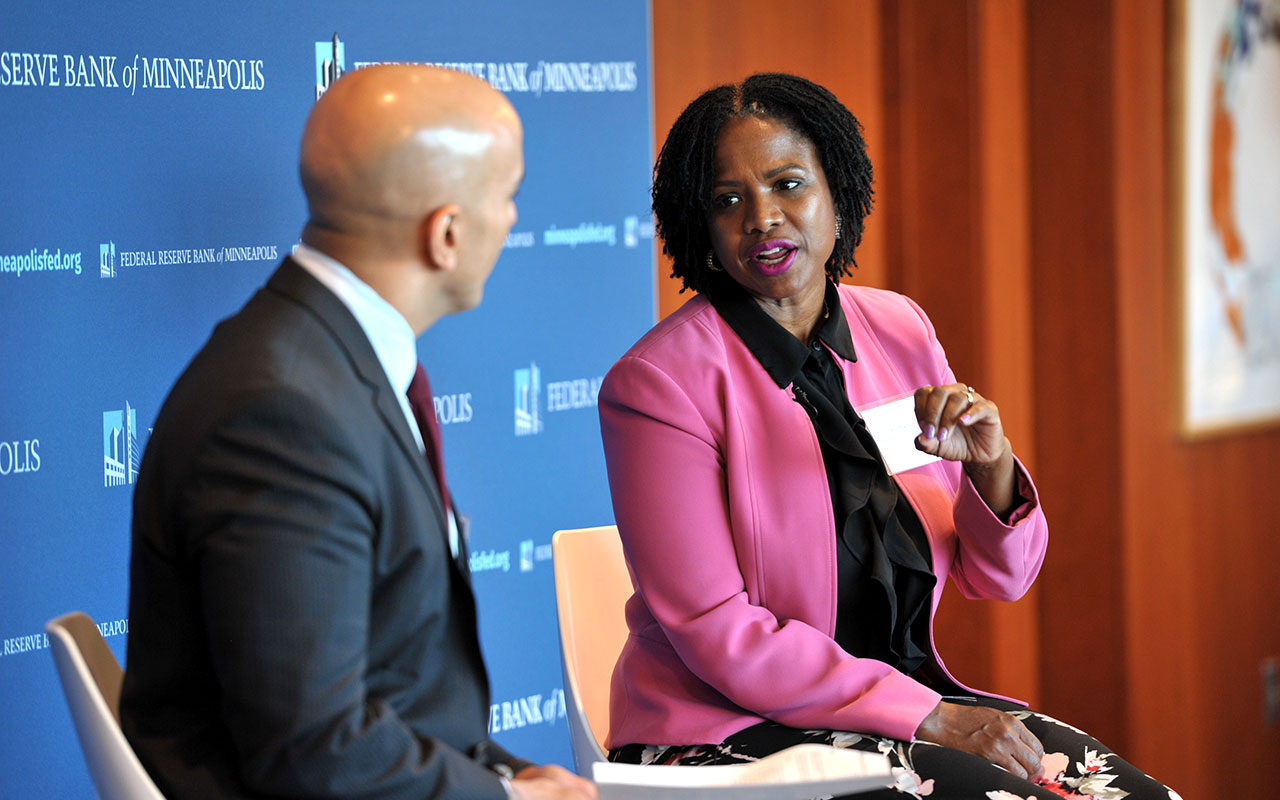 Sondra Samuels of the Northside Achievement Zone speaks with Neel Kashkari during the day 1 lunch.
Over lunch, attendees participated in a question-and-answer session with Sondra Samuels of the Northside Achievement Zone (NAZ), a nonprofit organization that is committed to closing the achievement gap and ending generational poverty in North Minneapolis. Though just miles from the Minneapolis Fed, North Minneapolis exemplifies the types of challenges that motivated the founding of the Institute. Closely modeled after the Harlem Children's Zone, NAZ has a dual focus on education and support for the whole family. Conference participants listened intently as Samuels explained the obstacles that such families encounter. NAZ's holistic approach, with coaches helping parents find housing, earn a GED or place a child into a quality preschool, is already paying dividends, Samuels said. Parents are getting back to work, and kids are missing less school. Some critics contend that NAZ is too expensive, but Samuels asked, "Compared to what?" Low investment in these children and young families could ultimately cost society much more, in lives lost to violence, crime or low achievement.
An inclusive mandate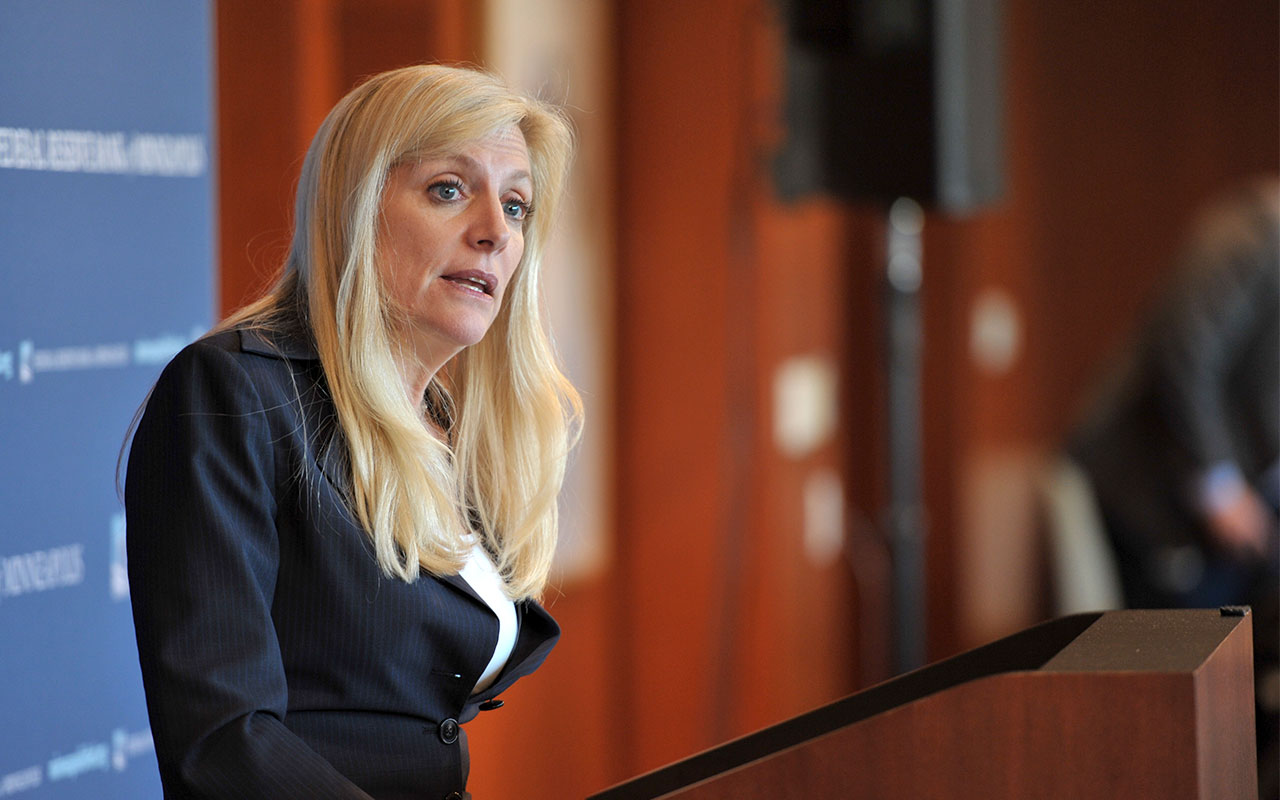 Lael Brainard of the Federal Reserve Board of Governors speaks about inclusion.
In her keynote address that evening, Federal Reserve Board Governor Lael Brainard emphasized how inclusion makes economic sense. "While it has long been understood that opportunity is central to the strength of America's social fabric," she said, "it is now increasingly clear that opportunity and inclusion are central to the strength of America's economy." She also noted that the Federal Reserve's maximum employment mandate is inherently an inclusive goal. "While the policy tools available to the Federal Reserve are not well suited to addressing the barriers that contribute to persistent disparities in the labor market outcomes of different groups, understanding these barriers and efforts to address them is vital in assessing maximum employment," she added.
Getting to work
The conference is just one aspect of the Institute's work. Another measure of the excitement surrounding this initiative is the Institute's Visiting Scholar program, which originally planned to host a handful of researchers in Minneapolis each year. However, the response was so positive and overwhelming that the Bank will now host as many as 17 scholars at some point over the next year.
That enthusiasm was palpable among the conference attendees. As the discussions concluded, there was a sense of shared purpose among the participants—that they were setting out on a mission of discovery together. As Mark Wright, the Minneapolis Fed's new Research director, put it, "It's time for us in the Fed to roll up our sleeves and get to work."