Diversity at the Bank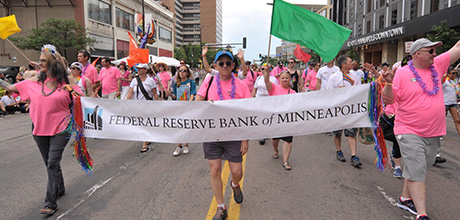 Our Commitment to Diversity
The Ninth District of the Federal Reserve Bank is committed to providing a work environment where diversity is embraced and all employees are respected and valued. We believe that by recognizing, respecting, and valuing the uniqueness of our workforce and providing development opportunities for all, we can effectively apply all of our talents, skills, and experiences to contribute to achieving the goals of the organization.
We define diversity as all the visible and not-so-visible ways in which people differ including race, age, gender, religious beliefs, sexual orientation, mental/physical abilities and the myriad of human traits, beliefs, and experiences that make each of us unique.
Our ongoing commitment toward workforce diversity is supported by the following strategies:
We are committed to demonstrating the importance of a diverse workforce by providing resources and clear direction to staff.
We reinforce employee actions that are consistent with the Bank's goals, values and work environment.
We hire a workforce that reasonably reflects the diversity of the community throughout all levels of the organization.
We provide education and development opportunities to employees at all levels of the organization.
Our Commitment in Action
The Ninth District strives to provide a work environment where diversity is embraced and all employees are respected and valued. We promote open lines of communication among all levels of management and employees. To put our commitment to diversity in action, we utilize the following systems, structure, and initiatives to cultivate an organization where employees have the opportunity to thrive.
Executive Corporate Diversity Council
The Executive Corporate Diversity Council reinforces and advances diversity at the Bank. The council provides direction and guidance for the Bank's diversity strategy, programming and planning that is consistent with our business objectives and work environment.
Employee Diversity Action Council
The Employee Diversity Action Council represents a wide range of employee diversity and "real world" insights. The council, comprised of a diverse group of employees from all levels and areas of the Bank, provides diversity awareness and education programs that help employees to gain a broader understanding of our diverse workforce.

Recruiting Partnerships
The Bank is proud to partner with several professional organizations to address our staffing needs. Activities include working with high school, college and university student groups on career preparation and internship opportunities. The Bank is associated with academic programs such as INROADS, Hispanic Association of Colleges and Universities, University of Minnesota's Carlson School of Management, Business Association of Multicultural Students, Central High School in St Paul, and Student Accounting and Finance Association as sources for summer internship candidates and applicants.
Development Programs
The Bank offers education and development programs aimed at establishing a climate that supports continuous learning. These opportunities help develop employees and prepare them for positions in leadership. Examples of such programs include:
Formal and informal mentoring programs
Job shadowing
Action Learning Projects
Employee Development Workshops
Leadership Development Program
Internal and External Training
Education assistance