Board of Directors
Meet Mary Brainerd, Chair of the Minneapolis Fed Board of Directors
Published October 17, 2012
This article originally appeared in the Bank's employee newsletter, Third Quarter 2012.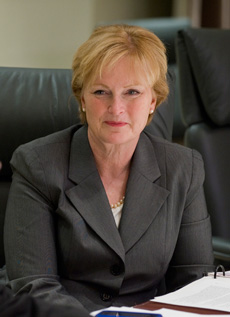 For Mary Brainerd, it all began with an internship while an undergraduate at the University of Minnesota. A summer job at the Minnesota Department of Health provided an opportunity to plan a major annual conference. "By the end of the summer," Brainerd said, "I was hooked on health care."
For the current chair of the Minneapolis Fed's board of directors, those humble beginnings as an intern were the foundation for a career in health care that led to the corner office of HealthPartners, the largest consumer-governed, nonprofit health care organization in the nation. And Brainerd's responsibilities will soon expand, as HealthPartners and Park Nicollet Health Services (both based in the Twin Cities metro) recently signed an agreement to combine organizations. Brainerd, currently president and CEO of HealthPartners, will become CEO of the combined nonprofit health organization in January 2013.
Brainerd, who received an MBA from St. Thomas University in St. Paul with a health care emphasis, says her career in health care has been a perfect marriage of analytical and people-oriented issues, both of which have been longtime passions. "I feel really fortunate to have had experience both in the delivery system part of health care and in the financing part of health care, because to achieve some of the changes that I want to see happen, you can't do one without the other," Brainerd said.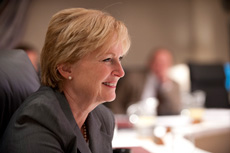 That career experience—health care financing plus care delivery—also makes Brainerd a good fit for serving the board of directors of the Minneapolis Fed. At first blush, there may not appear to be much connection between the health care industry and the nation's central bank, but Brainerd said the parallels became clear to her when she assumed her role on the board. Good governance is a common goal of directors on any board, Brainerd said, but nonprofit boards like those that serve the Minneapolis Fed and HealthPartners are special. "I'm always impressed with the level of commitment that board members make to a not-for-profit organization and the time and energy it takes," Brainerd said. "It's that added factor of commitment to a mission that is particularly meaningful and relevant to people who serve on nonprofit boards. It's what makes me want to do the work."
Brainerd began her first term on the Bank's board of directors in 2008. She became deputy chair in 2010 and chair in 2012. She's served on every committee of the board, including the recruiting committee, which shepherded the process that selected Narayana Kocherlakota the Bank president and chief executive officer. Brainerd's term as chair ends on Dec. 31, 2013, after which her six years of service will come to a close.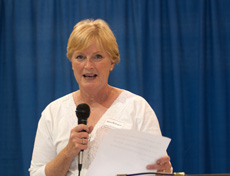 By now, she has become quite familiar with the Federal Reserve and its roles and responsibilities, but admits that when she was first approached to serve on the board she was uncertain about how she would contribute. She soon found that her contributions were highly valued, both in terms of providing oversight for Bank operations and for her role in providing economic and business information to Kocherlakota and his staff. Every month, a subset of the board's nine members answer questions about business activity in their regions and industries. Topics include labor markets, price changes, expectations for the future and a host of other issues relating to business activity. This information contributes to Kocherlakota's understanding of the economy and, ultimately, to the policy recommendations that he makes during meetings of the Federal Open Market Committee.
Brainerd said that in addition to learning about the many roles and functions of the Federal Reserve, one of the things that surprised her is the institution's commitment to communication about its roles and responsibilities. "There is actually more transparency than I had expected about the key decisions that are made, the programs that the Fed has, the challenges that the Fed faces." She added that she has come to learn the value of transparency and communication in her own role in the health care field—another industry that is often misunderstood by the public—and she strongly supports the Federal Reserve's efforts to increase transparency.
On that note, Brainerd and her colleagues on the board of directors recently took that commitment on the road, literally. The board, along with the Bank's senior management team, traveled to Minot and Williston, N.D., to tour that state's oil patch region and experience for themselves the whirl of economic activity that they have heard about at their board meetings. The tour included visits to an oil rig, transport station and crew camp, among other sites, but perhaps most importantly, according to Brainerd, it included meetings with North Dakota citizens. Those opportunities to connect with people within the Ninth District and to explain the role of the Bank's directors are very important, she said.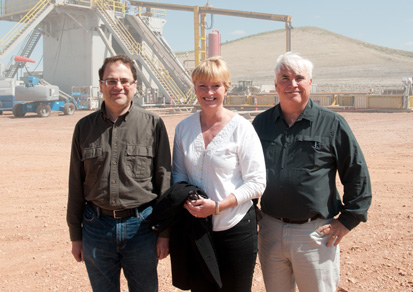 Narayana Kocherlakota, Mary Brainerd and Randall Hogan
"I really hope that we demonstrated a connection to the local communities and that they realized our genuine interest in learning directly from them about their rapidly changing economic environment," Brainerd said of the two-day trip. "I thought people were really both surprised and pleased to see folks from the Fed come to them with a desire to learn and to understand what has changed in their communities, and how they are handling that change. We certainly learned a great deal."
Openness and the willingness to learn are key attributes of successful organizations, according to Brainerd, and she looks forward to her opportunity to meet with Bank employees during the Town Hall Forum set for Nov. 15.